Nebraska steels itself for Minnesota's stingy defense, run-heavy offense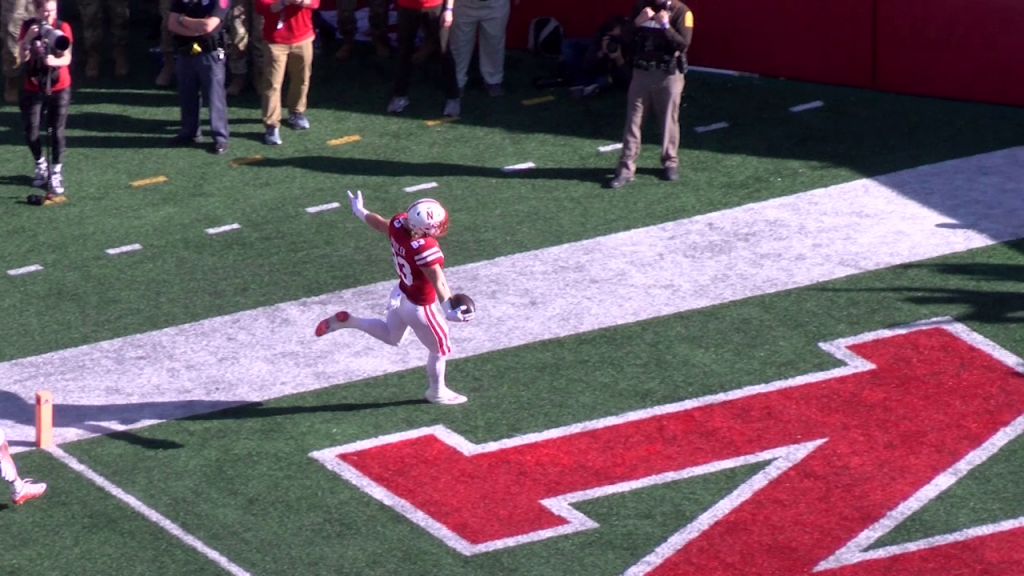 LINCOLN, Neb. (KLKN) – Nebraska football is preparing for another Big Ten opponent, the Minnesota Golden Gophers.
Offensive coordinator Mark Whipple detailed what he expects from Minnesota's defense, which is one of the best in the Big Ten, behind Illinois and Michigan.
"It's a completely different defense than we faced last week," he said.
Whipple said Illinois' and Minnesota's defenses are both "really good" but have different styles.
He noted that since the Huskers had a bye week, they had more time to prepare for Illinois.
That won't be the case for Minnesota.
The Golden Gophers have allowed only 126 points so far this season and only give up 14.4 points per game.
"Structurally, they're really sound and do a really good job," Whipple said. "And in the right places, they're very opportunistic."
Minnesota's defense did allow 45 points against No. 16 Penn State and 26 points against No. 14 Illinois, over half of their allowed points this year.
No matter the team, Whipple said the Huskers will need to execute better this weekend.
And the offense possibly might be without its man under center, Casey Thompson, who was injured during Saturday's game.
Whipple said backup quarterback Chubba Purdy had been playing with an injury last week but is fine now.
Nebraska has dealt with its fair share of injuries this season, including linebacker Nick Henrich, who is out for the rest of the season.
"When it rains, it pours," Whipple said about the quarterback injuries.
On Tuesday, interim head coach Mickey Joseph said Thompson was "day to day."
He also said both Purdy and Logan Smothers had been taking reps as the starting quarterback in practice.
SEE ALSO: Husker QB Casey Thompson is 'day to day'; Saturday's starter uncertain
So the question remains: Who will be the starting QB against Minnesota?
Whipple said Purdy has had two good days of practice and feels much more confident than he did when Thompson went down.
He said that he spoke to the young quarterback in hopes of boosting his confidence after a disappointing second half against the Fighting Illini.
"I say, 'Man, I believe in you. Everybody on this team believes in you, so there's a good chance you'll be the starter,' " he said.
Whipple said one game doesn't make a career.
He didn't rule out an appearance from Smothers, who only led one drive against Illinois.
"I feel good about those guys, especially the way they've gone about their business this week," Whipple said.
Minnesota, on the other hand, will have fifth-year QB Tanner Morgan.
Also in the Golden Gophers' backfield is explosive running back Mohamed Ibrahim, who has racked up 955 yards and 13 touchdowns this year.
Ibrahim is similar to Illinois' Chase Brown, who ran all over the Huskers' defense with 149 yards and one touchdown.
Defensive coordinator Bill Busch said the offenses are run very similarly.
"Their main objective is the same," he said, "They want to be able to stay ahead of the sticks; they want to run the football."
Busch complimented Ibrahim, who he said was one of the most "elite backs" he's ever had to coach against.
"He's an unbelievable player, he's tough, physical, ability to jump cut," Busch said. "He has everything."
Nebraska's defense has struggled against the run, giving up the most rushing yards in the conference, with 1,521.
Opposing running backs average 4.8 yards per play against the Huskers.
Busch admitted that the Huskers will need to play well Saturday to force Minnesota to throw the ball.
"You have to earn the right to be able to try to get them to throw the ball," he said.
Nebraska will face Minnesota at home at 11 a.m. Saturday on ESPN 2.
SEE ALSO: Three-star running back from Louisiana commits to Nebraska