Nebraska Volleyball back with intrasquad scrimmage
Red-White game brings fans back to Devaney Center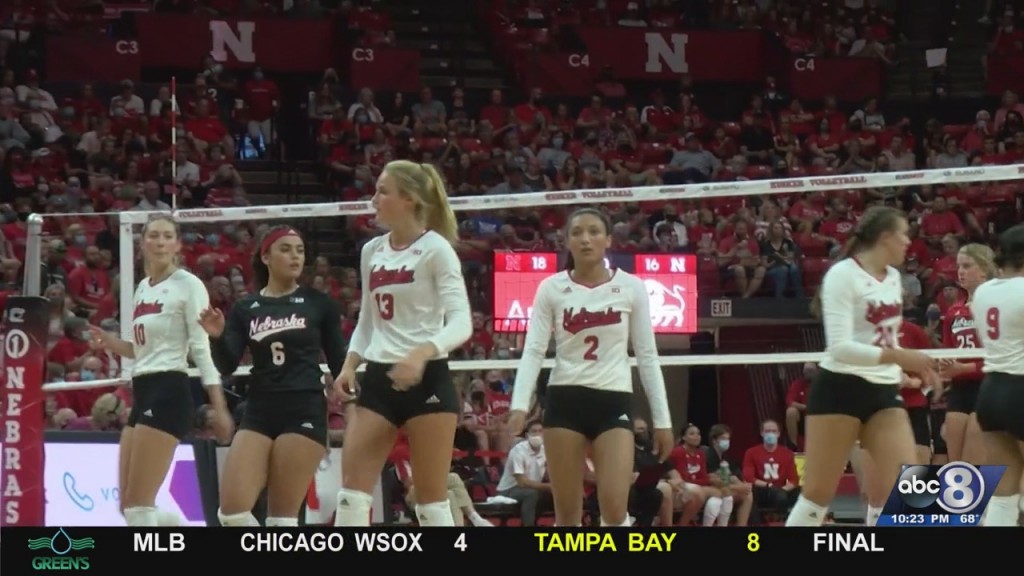 Lincoln, Neb.- The stands in the Bob Devaney Sports Complex were roaring once again Saturday night as the Nebraska Volleyball team returned to the court of their annual Red-White scrimmage. Fans were required to wear mask and no autographs were allowed, but there was plenty of interaction between the Huskers and their fans. However in the fourth set of the scrimmage,  Nebraska senior setter Nicklin Hames fell to the ground near the net and appeared to injure her ankle. She was helped off the court and immediately went to the training room. She did not return to the scrimmage. After the match, Nebraska volleyball Head Coach John Cook said he wasn't immediately aware of the severity of the injury. Watch the highlights from Saturday's match in the link above.
More match details from Nebraska Athletics-
The Nebraska volleyball team held its annual Red-White Scrimmage Saturday evening, with the match ending in a 2-2 tie in front of 7,940 fans at the Devaney Center.
Lexi Sun led the Huskers with a combined 16 kills alongside three blocks, with 12 of her kills tallied for Team Red across sets one, two and four.
Madi Kubik totaled 14 kills and two blocks, and Whitney Lauenstein also had 14 kills, including nine for Team White, alongside two blocks and a service ace.
Ally Batenhorst finished with a combined 12 kills, 11 digs and one block. Eight of her kills came in the first set for Team White.
Lindsay Krause notched 12 kills, including nine for Team Red.
Callie Schwarzenbach had 12 kills and nine blocks on the night, including a team-leading nine kills and five blocks for Team White. Schwarzenbach was also honored between sets with the program's Lifter of the Year award from a vote of her teammates.
Kalynn Meyer posted eight blocks and seven kills, and Kayla Caffey totaled six kills on the night.
Nicklin Hames finished with a match-high 32 assists with 11 digs and a pair of blocks for Team Red. Anni Evans led Team White with 26 assists and added eight digs, and Kennedi Orr had a combined 25 assists across both squads, including 19 for Team White. Orr also chipped in three blocks.
Defensively, Kenzie Knuckles and Keonilei Akana each finished with 20 digs, and Akana added two aces. Lexi Rodriguez also had 17 digs.
Set 1: White 25, Red 22
White took the opening set 25-22 behind eight kills from Batenhorst, another five from Caffey and four from Lauenstein.
Red hit .333 with Hames setting and had a 4-0 team blocking advantage. Sun led Red with four kills, and Schwarzenbach put up three blocks.
White, hitting .545 out of the gate, got three early kills from Batenhorst and charged to an 8-3 lead before a Red timeout. Breaking past a 12-12 tie, White never relinquished its lead the rest of the way.
Set 2: Red 26, White 24
A tight second set saw 10 ties and three lead changes. Kubik had six kills and two blocks to pace White, and Krause led Red with four kills of her own.
White never trailed until Red tied it at 16-all and used a 5-0 run punctuated with a Sun kill to go up 19-16. But a Meyer/Kubik block and two Kubik kills put White on a 3-0 run to regain the lead, 22-21. The two teams then traded points up to 24-24, and a Batenhorst kill put it away 26-24 as Red evened match at 1-1.
Set 3: White 25, Red 13
White came out swinging to hit .385 as a team with just one attack error and outblocked Red 5-0 in a third-set effort. Sun had four kills, and Schwarzenbach matched her with four more kills alongside five blocks.
White surged ahead 5-2 with an early 5-0 run and worked to a 13-8 lead before kills from Schwarzenbach and Sun prompted a Red timeout. The White squad grabbed a 21-11 lead after a 7-0 spurt with the help of two kills from Sun, a Lauenstein ace and a solo block by Schwarzenbach.
A Schwarzenbach/Orr block brought it to set point before a Lauenstein kill finished it off.
Set 4: Red 25, White 17
Sun and Lauenstein pitched in five kills apiece in the final set to lead the way for Red. Schwarzenbach put up five kills for White.
Red used kills from Hames and Knuckles, a solo block from Meyer and an Orr/Meyer block to go up 12-5. Red then worked to its largest lead at 20-9 on a 5-0 run with the help of kills from Lauenstein and Sun before finishing off the set at 25-17.
Up Next
Nebraska kicks off the 2021 campaign with the Husker Invitational, Aug. 27-28, at the Devaney Center with Tulsa, Colgate and Kansas State. The Huskers open against Tulsa, with first serve set for 11 a.m. The match will be broadcast on Big Ten Network+, and John Baylor and Lauren Cook West will have the radio call on Huskers Sports Network.