SNAP Next Step program benefits highlighted
Former SNAP Next Step participant, April Claussen, shares the life changing effects from her decision to take part in SNAP'S reemployment program.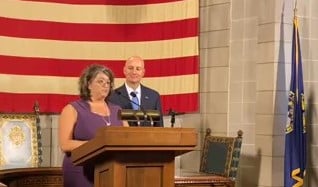 LINCOLN, Neb. (KLKN) – Four years, 1,100 job applications, and still left jobless.  Single mother of two, April Claussen, details her success during Governor Ricketts' Press Conference after completing SNAP Next Step which took her from 700 dollars a week to working for the Nebraska Government.
SNAP Next Step works with the Nebraska Department of Health and Human Services to get under and unemployed clients into jobs that pay a livable wage.  Throughout the conference, Gov. Ricketts, Stephanie Beasley, and April Claussen gave multiple detailed accounts on the different ways a SNAP Next Step participant could receive aid.
Claussen explained her one goal, to attend college and graduate before her children graduate high school.  Through her dedication, and the help of the SNAP Next Step Program, Claussen was enrolled in Mid Plains Community College in January of 2019, taking sixteen to eighteen credit hours a semester.  While maintaining a job, family and 21 credit hours in her final semester; Claussen graduated college two days before her youngest graduated high school.
SNAP Next Step helps people, like April, receive the assistance they need to reach a better quality of life whether it be in the form of resume guidance, enrollment in school, or providing proper learning materials.  In return, April Claussen was required to check in once a week with her SNAP rep, and once a month with her WIOA counselor to review grades.
Governor Ricketts, and Stephanie Beasley, Director of the Division of Children and Family Services, explained that the purpose of SNAP Next Step is to assist low income Nebraskans to develop job skills, however the program can help, to find job security.
To watch the press release: https://www.facebook.com/GovernorPeteRicketts/videos/1219320268581145/
To learn more about the program visit: https://dhhs.ne.gov/Pages/SNAP-Next-Step.aspx