WATCH: A donation made to thank community for support after temple vandalism
"Two Congregations, One Community"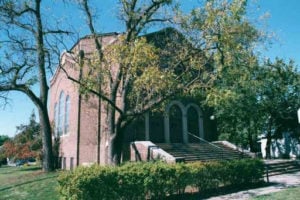 LINCOLN, Neb. (KLKN) – The South Street Temple and Congregation Tifereth Isreal are partnering together to give $11,000 to two local charities as a thank you to the Lincoln community after the January hate crime that left the Temple vandalized.
The partnership called "Two Congregations, One Community" will see the funds go to the Food Bank of Lincoln and Clinic With a Heart.
In a statement, the South Street Temple spokesperson said "Lincoln came together offering donations, attending Shabbat services following the vandalism, and making public statements of solidarity with our community. The Lincoln Jewish Community would like to show their appreciation by supporting two organizations that provide support for our neighbors in these troubled times."
Clinic with a Heart told Channel 8 "We are thrilled and blessed to receive this amazing gift from South Street Temple and Congregation Tifereth Israel! This gift allows us to continue to serve people who are uninsured and underinsured. It also allows our patients to continue working to support their families, helps them avoid the emergency room, and gives them access to healthcare, life-saving tests, and screenings. Since 2012, South Street Temple has partnered with Clinic with a Heart, as one of our Mission Team Sponsors, to care for patients. We value this partnership and the impact we make, together, in the community."
"The gifts from South Street Temple and Congregation Tifereth Israel to Clinic with a Heart and the Food Bank are wonderful examples of faith communities collaborating to bring hope and health to those of us who are struggling. Our partners from all faiths help put meals on the tables of thousands of Southeast Nebraskans," said Food Bank of Lincoln Executive Director Scott Young.
RELATED STORIES:
LPD: South Street Temple vandal identified in multiple different crimes – KLKN-TV
People of different faiths gather at synagogue to show support (klkntv.com)
Police investigating vandalism at Lincoln synagogue as hate crim (klkntv.com)