Brief warm-up followed by rain this weekend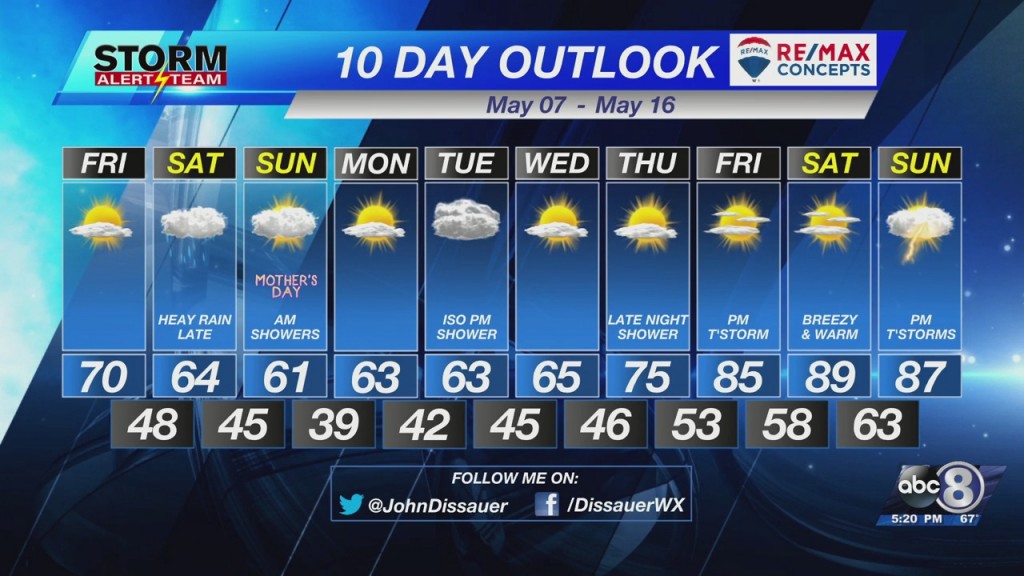 Skies will clear as we go through the late evening/early night hours. This will once again send temperatures dropping through the 50°s and 40°s overnight, eventually stopping in the upper 30°s to lower 40°s Friday morning.
Friday afternoon is shaping up to be a nice day as temperatures attempt to get back to normal (71° in Lincoln). Under partly cloudy skies, temperatures will climb to 70° to the mid 70°s as a stationary front bisects the area. East of the front, temperatures will stay near 70° with easterly winds. West of the front, temperatures will jump to the mid-70°s.
Clouds will be on the increase Friday night in to Saturday. At this time, Saturday looks very gray with mainly cloudy skies. Rain will begin to fall as we go through the day. There will be several dry hours, but chances increase as we go through the day, especially for the evening. Computer models suggest heavy rain could fall Saturday night in to early Sunday morning (pre-dawn). Data suggests a half inch to 3/4″ of an inch of rain is possible by Sunday morning.
There remains some question as to how long the rain hangs on Sunday morning. Some data suggests it could linger through late morning. I'm on the side of it ending not far after sunrise. Skies will eventually turn partly cloudy by late afternoon. Temperatures aren't looking overly warm with highs in the upper 50°s to lower 60°s.
– Chief Meteorologist John Dissauer