Bryan Health delays surgeries due to COVID-19 case capacity
Big news coming from Bryan Health, saying they are filled to capacity with patients.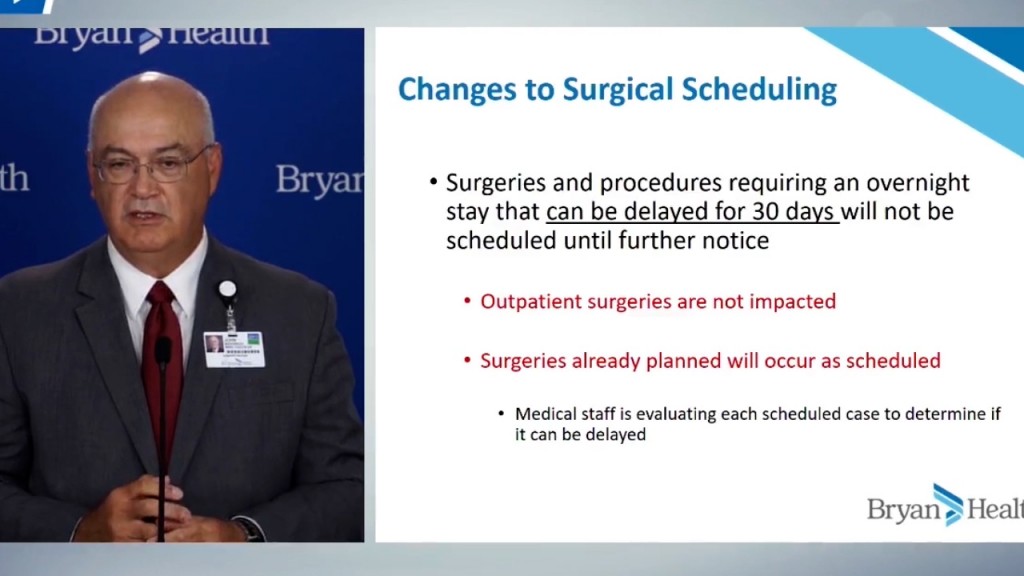 LINCOLN, Neb. (KLKN) — Big news coming from Bryan Health on Thursday. They say they are filled to capacity with patients.
"I'm telling you, we are being as clear and open and honest as possible. Bryan Medical Center is full," said Bob Ravenscroft, Bryan Health vice president of advancement.
Because of that and due to trouble finding enough staff, it's delaying elective surgeries again.
"In regards to our surgeries and procedures requiring an overnight stay that can be delayed, we will not schedule until further notice," said John Woodrich, Bryan's president, and CEO. "I want to add clarification, that outpatient surgeries are not impacted by this decision, those will continue."
Bryan Health says one of the big reasons they're full is due to the amount of COVID-19 patients.
Currently, they have 66 COVID patients, 61 are not fully vaccinated.
17 of those patients are in intensive care. 16 of them, unvaccinated, and 15 are on ventilators, 14 of whom are not vaccinated.
Bryan's workers are also feeling the pressure of staffing shortages.
"Providers are really saddened by it," said Dr. John Trapp. "Yeah, we're frustrated by it, we're frustrated that the information that you may have received isn't always accurate, that you're making decisions that you think are in the best interest of yourself based on information that sometimes isn't always portrayed in the right light. So so it's a challenge."
We also checked in with CHI Health. They say it has 110 covid patients across the 14 hospitals and are not making changes to their surgery plans as of now.
In a statement, they say, "We have no formal plans to limit or scale back elective surgeries. The number of patients we have in our hospitals fluctuates daily – if not hourly. We will be assessing daily."