Cold today with accumulating snow overnight 3/9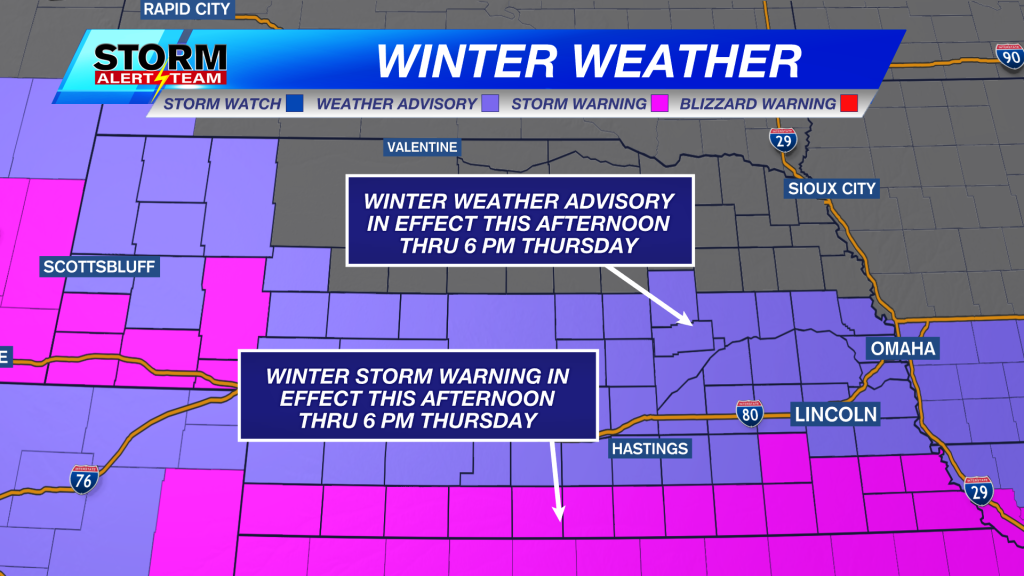 We are off to a cold but dry start this morning across eastern Nebraska with wind chill values in the single digits and teens. Snow is already falling across western and central Nebraska currently and it has resulted in accumulation.
Eastern Nebraska won't get our fair share of snow until the second half of the day, leaving most of the day dry with increasing clouds. Temperatures will reach the upper 20s and low 30s today as a result of the overnight cold front, clouds and northerly wind. Snow showers are likely in central Nebraska and even close to the Tri-Cities as soon as this morning with the chance for some showers this afternoon around Lincoln. Dry air could get in the way of these showers making it to the surface around Lincoln, and I think the best chance for snow showers will be later this evening. Your evening commute should be okay, as most of the snow won't accumulate until overnight tonight. Several inches of snow will be on the ground by the morning commute tomorrow, resulting in a messy and dangerous drive. Conditions will improve as we head closer to noon tomorrow and the last of the snow bands exit the state.
Snow totals by the end of the event will vary depending on where you live. Near the Kansas border could see around 3-8″ while areas to the north will see less. Lincoln is currently in the 1-4″ range and this is enough to require the shovel!
Temperatures remain COLD the next two days with highs in the 20s and overnight lows in the single digits. Saturday morning will be the coldest, with wind chill values around -20°. A big warmup will arrive on Sunday with high temperatures in the mid-60s and this warm stretch carries over into next week.
Meteorologist Brittany Foster
@BrittFosterWX
bfoster@klkntv.com