Crete woman creates free pet pantry in memory of late dog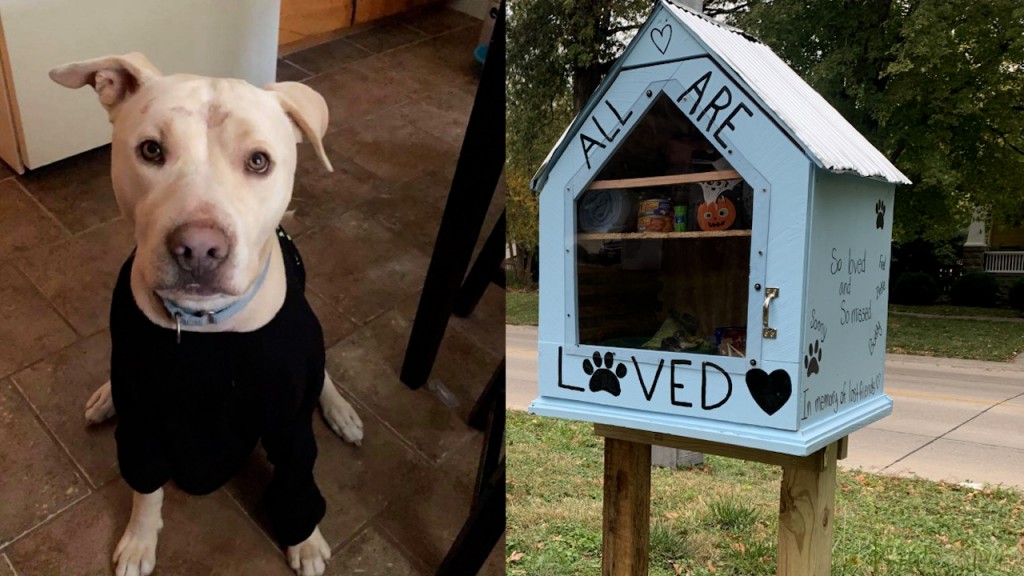 CRETE, Neb. (KLKN) – A Crete woman is trying to make a difference, for not only the people in her neighborhood, but the animals, too.
"He was so loved, so cherished, so spoiled by my whole entire family."
27-year-old Sonia Almodovar lost her best friend, Buddy. He was a 4-year-old pitbull, who passed away suddenly a few weeks ago.
But instead of tears, Sonia found a different way to grieve.
Her family created what they're calling the 'Buddy Box' that now stands tall on the grass Buddy once loved.
The box sits at the corner of 8th and Main Streets in Crete.
"We were never dog people, pet people, and then when we adopted this dog, that he came from a horrible upbringing and all he had was this unconditional love and then he tragically passed away," Sonia said. "It's kind of like, what can we do so that every animal is treated to the best they can be treated, we don't want anyone to be treated how Buddy was – a stray, and he didn't have anything to eat or any place to stay. We always want every animal to be treated good."
From treats to toys, anything a pet may need can be found inside of the 'Buddy Box.'
Sonia will continue to fill the box with pet supplies, as needed, but donations are always welcome.
She says she's seen her fair share of visitors already since the box was put up last week.
While the 'Buddy Box' is filled with basic supplies on the inside, there are some treasures on the outside.
A list of names of those furry friends in the community who have passed, but are truly never forgotten.
Sonia hopes the 'Buddy Box' will open people's eyes – that pets can't fend for themselves and it's our job to step up and help.
"I want to change the stigma of, 'I don't have enough money to feed my pet.' Let's change that," Sonia said. "What are you doing to help yourself? Come to my free pet pantry. Or what can we do to get those donations to you so you can provide stuff for your pet."
About six months ago, Sonia also created the 'Blessing's Box,' which sits next to the 'Buddy Box.'
A little food pantry, that's presented in Spanish, so everyone, no matter what language you speak, can grab the basics.
If you would like to donate to the Buddy Box, you can either drop items off at the pantry directly or check the Facebook page.