Huskers open WNIT against UT-Martin
The Nebraska women's basketball team begins 2021 postseason play by taking on Ohio Valley Conference regular-season champion UT Martin on Friday morning in the WNIT's Memphis Regional.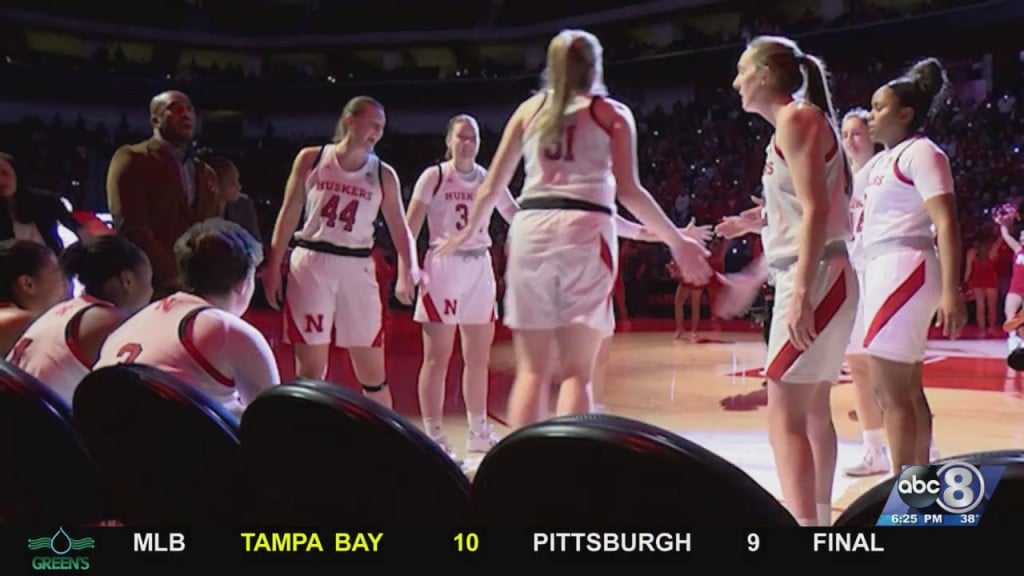 LINCOLN, Neb. (KLKN/Husker Athletics) — The Nebraska women's basketball team begins 2021 postseason play by taking on Ohio Valley Conference regular-season champion UT Martin on Friday morning in the WNIT's Memphis Regional.
Tip-off between the Huskers (12-12, 9-10 Big Ten) and the Skyhawks (20-5, 17-2 Big Ten) is set for 11 a.m. (CT) at My Town Movers Fieldhouse in Collierville, Tenn.
A live stream of the game – and all WNIT games – will be provided to subscribers of FloHoops.  As always, Husker fans can follow Nebraska with the Husker Sports Network call of Matt Coatney and Jeff Griesch across the radio network stations, the Huskers App and Huskers.com.
Nebraska made a strong argument for inclusion into the 64-team NCAA Tournament by producing a 5-5 record against AP Top 25 teams during the regular season. The only Big Ten team with more wins against the top 25 was conference regular-season and tournament champion Maryland. The No. 7 Terrapins went 8-2 against the top 25. The only other Big Ten team with five wins against the top 25 was Big Ten Tournament runner-up Iowa.
The Big Ten's lone representative in the WNIT, Nebraska is one of eight conference teams that advanced to the postseason, joining No. 7 Maryland, No. 12 Indiana, No. 16 Michigan, No. 19 Rutgers, Iowa, Northwestern and Michigan State.
Second-team All-Big Ten guard Sam Haiby leads the Huskers to the postseason. The 5-9 junior from Moorhead, Minn., is the only Big Ten player to rank among the top 12 in the conference in scoring (17.3 ppg, 9th), rebounding (6.9 rpg, 12th) and assists (4.5 apg, 8th). Haiby averaged 21.5 points, 8.5 rebounds and 4.5 assists in the Big Ten Tournament and owns nine 20-point efforts on the year, including 24 points, nine boards and six assists in an 83-73 conference tournament loss to No. 7 Maryland (March 11).
Haiby, who tied a career high with four three-pointers against Maryland, became the 35th Husker in history to reach 1,000 career points with her three-pointer early in the third quarter vs. the Terps.
Three-time Big Ten All-Defensive selection Kate Cain leads the Big Ten as one of the best shot-blockers in conference history. The 6-5 Cain ranks No. 6 in Big Ten history and holds the Nebraska record with 350 career blocks. The No. 2 active NCAA Division I player in blocks, Cain earned honorable-mention All-Big Ten accolades in 2021 and is the 10th Husker in history to achieve the combined milestones of 1,000 points and 750 rebounds. Cain averaged 12.0 points and 8.5 rebounds in the Big Ten Tournament. Cain (1,071) joins Haiby as 1,000-point career scorers at Nebraska.
Sophomore Isabelle Bourne joined Cain as an honorable-mention All-Big Ten pick in 2021. Bourne ranks 10th in the Big Ten in rebounding (7.8 rpg) and 23rd in scoring (13.9 ppg) while adding 2.3 assists and 1.0 block. Bourne averaged 13.0 points and 6.0 rebounds in the Big Ten Tournament.
Video Previews
Huskers excited for WNIT opportunity:
Sam Haiby catching national attention:
Kate Cain still deciding if she will return for extra season:
Scouting the UT Martin Skyhawks
• The UT Martin Skyhawks enter the Postseason WNIT after winning the Ohio Valley Conference regular-season title with a 17-2 league mark.
•  The Skyhawks played three regular-season non-conference games, including two against current AP No. 8 Louisville. UT Martin opened the year with an 85-67 loss at Louisville (Dec. 6) before returning to the KFC Yum! Center for a 96-61 loss a month later (Jan. 5). UT Martin defeated Southern Conference regular-season champion Samford, 75-67 in Birmingham (Dec. 8). The Bulldogs are also participating in the WNIT Memphis Regional.
•  UT Martin suffered an 83-75 loss to Belmont in the OVC Tournament Championship game (March 6), which secured Belmont the league's lone NCAA Tournament bid.
•  Coach Kevin McMillan has led UT Martin to historic success in his 12 seasons on the sideline. The four-time Ohio Valley Conference Coach of the Year (2010, 2015, 2016, 2021), McMillan led the Skyhawks to four straight league titles and four straight NCAA Tournament appearances from 2011 to 2014. This will be UT Martin's fourth trip to the WNIT under McMillan (2015, 2016, 2018, 2021) after the 2020 WNIT was canceled.
•  Senior Chelsey Perry was named the OVC Player of the Year after averaging 23.8 points and 7.5 rebounds per game during the regular season. The 6-2 forward missed six regular season games and was only available off the bench during UT Martin's appearances in the OVC Tournament. Perry had 16 points, seven boards and five assists in 23 minutes in the championship game loss to Belmont. She had 10 points in 14 minutes in a semifinal win over Tennessee Tech, and she did not play in an opening-round win over Eastern Illinois.
•  Perry scored 26 points in each of UT Martin's losses to Louisville, including 26 points and 10 boards in the 96-61 setback to the Cardinals (Jan. 5). She was a finalist for the Becky Hammon Mid-Major Player of the Year Award in 2020, and advanced to the final 10 candidates for the 2021 Katrina McClain Award. A WBCA honorable-mention All-American in 2020, Perry was also on the preseason Naismith Award Watch List for 2021. Perry owns 1,888 points and 745 rebounds in her four-year career.
•  Sophomore Dasia Young adds explosiveness and consistency for the Skyhawks. The 5-11 forward joined Perry as a first-team All-OVC choice, averaging 12.7 points and 6.3 rebounds as the only UT Martin player to start all 25 games. She averaged 16.7 points and 9.7 rebounds in the OVC Tournament.
•  Senior Maddie Waldrop adds length and steady play, averaging 9.8 points and 6.3 rebounds . A first-team All-OVC selection in 2020, Waldrop shoots 50 percent from the field and can stretch defenses to three-point range (19-58), while also hitting better than 70 percent of her free throws. Waldrop owns 1,056 points and 800 rebounds in her career. She averaged 14.0 points and 6.7 rebounds in the 2021 OVC Tournament.
•  Sophomore Seygan Robins (7.9 ppg, 2.3 rpg, 3.5 apg) has started 24 games and leads UT Martin in assists (85), steals (32) and three-pointers (42-88, .477). Junior Paige Pipkin (7.5 ppg, 2.8 rpg) is also a dangerous threat from beyond the arc, hitting 29-of-71 threes (.408).
•  Junior Sade' Hudson (3.1 ppg), a 5-8 guard, started all three games in place of Chelsea Perry in the OVC Tournament. Juniors Damiah Griffin (4.3 ppg, 2.0 rpg), Kyannah Grant (3.4 ppg, 1.1 rpg) and Zaire Hicks (3.3 ppg) give UT Martin more depth and experience.
•  As a team, UT Martin is shooting 46.8 percent from the field and 38 percent (159-418) from three-point range while connecting on 75.2 percent of its free throws. The Skyhawks own a plus-0.8 rebound margin and a plus-0.9 team turnover margin.
Nebraska vs. UT Martin Series History
• Nebraska won the only previous meeting, a 69-60 victory over the Skyhawks at the Bob Devaney Sports Center in Lincoln on Dec. 7, 2004.
• Bojana Samardziska, a 6-4 center from Belgrade, Serbia, erupted for a career-high 19 points on 9-of-12 shooting against a Skyhawks team that did not have a player taller than 5-11.
• Three-time first-team All-Big 12 guard Kiera Hardy led the Huskers with 20 points.
• UT Martin was led by guard Danielle Page, who scored 16 points and hit four threes. Nebraska's Danielle Page, a future Olympic bronze medalist for Serbia (2016), managed two points.