Nebrasketball set for rivalry showdown at No. 8 Creighton
Nebraska has a quick turnaround to finish non-conference action, as the Huskers will travel to Omaha for the annual matchup with Creighton on Friday night. The game with Creighton is the Huskers' first road trip of the 2020-21 campaign.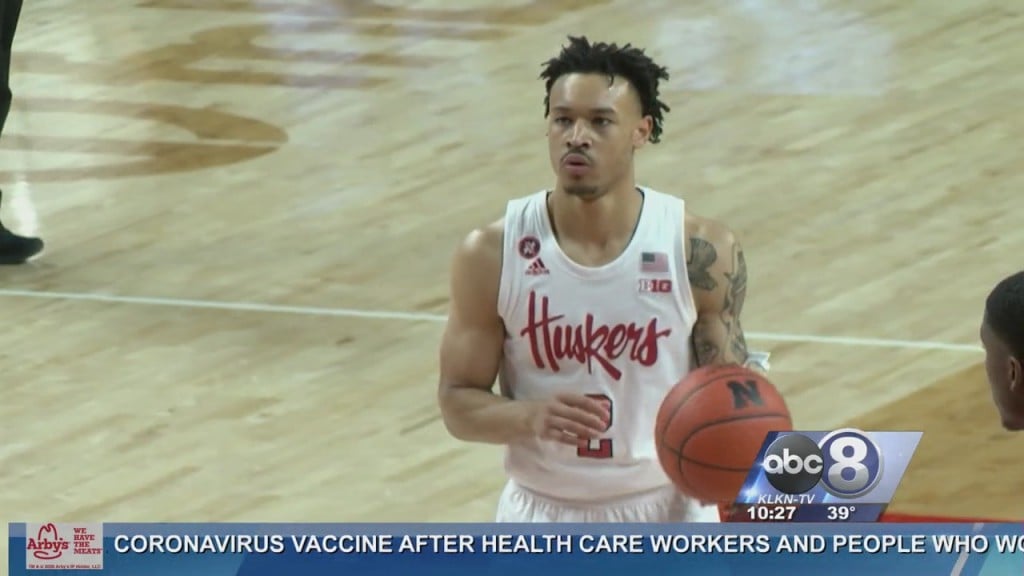 LINCOLN, Neb. (Nebraska Athletics) — Nebraska has a quick turnaround to finish non-conference action, as the Huskers will travel to Omaha for the annual matchup with Creighton on Friday night. The game with Creighton is the Huskers' first road trip of the 2020-21 campaign.
Tipoff between the Huskers and Bluejays from CHI Health Center is set for 6 p.m and will be carried nationally on BTN with Kevin Kugler and Shon Morris on the call. The game can also be streamed via the web, smartphones, tablets and connected devices through the Fox Sports app.
Fans can follow all of the action across the state of Nebraska on the Learfield IMG College Husker Sports Network with Kent Pavelka and Jake Muhleisen on the call. The game will also be available on Huskers.com, the Huskers app and TuneIn radio. The pregame show begins one hour prior to tipoff.
The Huskers (3-2) come off a tough 75-64 loss to Georgia Tech on Wednesday night. The Huskers led 52-51 with 7:02 left, but the Yellow Jackets took control with a 16-4 run over the next 3:33 as Jose Alvarado and Moses Wright combined for 14 points in the run for the winners. The loss overshadowed a strong performance from senior Kobe Webster, who came off the bench and led NU with 20 points, including 6-of-7 from 3-point range. Webster, who began his career at Western Illinois, is averaging 12.2 points per game while shooting 51 percent from the floor, including 42 percent from 3-point range.
The Huskers now turn their attention to a Creighton squad which is 3-1 on the season and ranked eighth in this week's AP poll. The Bluejays are coming off a 73-72 loss to fifth-ranked Kansas on Tuesday. Denzel Mahoney led four Creighton players in double figures with 19 points, while Marcus Zegarowski added 16 points, six rebounds and four assists.
Friday's matchup features an interesting point guard matchup with Zegarowski, the Big East Preseason Player of the Year, and Nebraska's Dalano Banton. Zegarowski is averaging 13.3 points, 6.3 assists and 3.8 rebounds per game, while Banton is averaging 14.2 points, 7.2 rebounds and 5.8 assists per contest. Banton had 17 points, nine rebounds and six assists in Wednesday's loss to Georgia Tech.
Following Friday's game, the Huskers will be off until traveling to No. 13 Wisconsin on Monday, Dec. 21. That game will tip off at 6 p.m. and be televised on FS1.
PLAYER SPOTLIGHT
Kobe Webster comes off a season-high 20-point effort against Georgia Tech on Wednesday. His six 3-pointers was not only a career high but the eighth time in his career he has hit five-or-more 3-pointers in a game.
NUMBERS TO KNOW
2 – Dalano Banton joins Illinois' Ayo Dosunmu as the only Big Ten players averaging 14.0 ppg, 5.0 apg and 5.0 rpg as of Dec. 10.
3 – Nebraska has three straight 20-point performances, all coming in the last three games (Teddy Allen-2; Kobe Webster-1).
10.2 – Nebraska's steals per game, a total which leads the Big Ten and ranks 16th nationally.
37- Nebraska is 37th nationally in tempo according to KenPom as of Dec. 10. The Huskers are one of two Big Ten teams (also Iowa) currently in the top 50.
41 – Nebraska's 3-point attempts against Nevada was a single-game record, breaking the mark of 38 against Kansas in 2002. It ranked eighth in Big Ten history and was the most since Iowa took 42 attempts against Savannah State on Dec. 22, 2018.
102 -Nebraska's 102 points against McNeese State was the first time NU topped the 100-point mark since the 2018-19 opener. It also marked the ninth time in school history that NU scored 100+ points in an opener.
125 – Fred Hoiberg picked up his 125th collegiate coaching win against South Dakota on Dec. 1.
SCOUTING CREIGHTON
Creighton comes into Friday's contest smarting from a 73-72 loss to fifth-ranked Kansas on Tuesday.  Denzel Mahoney and Marcus Zegarowski combined for 35 points, and the Bluejays had a chance to send the game into overtime, but Zegarowski missed the third of three free throws with 1.1 seconds remaining for the final margin. Creighton held Kansas to 39.4 percent shooting, but the Jayhawks went 10-22 from beyond the 3-point line and enjoyed a 41-33 advantage on the glass. The Bluejays returned four starters and five of its top six scorers from a team that went 24-7 and won a share of the Big East regular-season title in 2019-20. Creighton opened the season with three straight wins – all coming by at least 11 points before the loss to Kansas.
Zegarowski is the heart of the Bluejay attack, as he averages 13.3 points and 6.3 assists per game. He was the Big East Preseason Player of the Year last year, averaging 16.1 ppg and 5.0 apg.  Senior Mitch Ballock averaged 11.9 ppg last year, including 44 percent from 3-point range, while Denzel Mahoney averaged 13.3 points per game as the Bluejays' sixth man. Christian Bishop leads Creighton in scoring, averaging 14.5 points per game while shooting 81 percent from the floor and grabbing a team-high 6.3 rebounds per game. He is one of four players averaging double figures and one of six players averaging at least 8.0 ppg in the first four contests. Greg McDermott is in his 11th year at CU after coaching at Iowa State, Northern Iowa, North Dakota State and Wayne State.
Series History: Nebraska and Creighton are meeting for the 54th time in series history on Friday night, as Creighton holds a 27-26 lead. Friday's meeting will mark the first time that the teams will meet at the same site in consecutive meetings since the 2003-04 season. That year, Creighton won the regular-season meeting in Omaha before the Huskers turned the tables with a 71-70 victory in the NIT.  The home team has won 12 of the last 15 meetings, while Nebraska snapped a seven-game losing streak with its win in Lincoln in 2018. The Huskers' last win in Omaha was the 2004 NIT win.
Last season: Haanif Cheatham had a team-high 14 points to lead five Huskers in double figures, but Nebraska's start proved costly in a 95-76 loss at Creighton. Cheatham scored 12 of his 14 points in the second half as Nebraska shot 61 percent in the second half, but was unable to overcome a blistering start by Creighton in the first 15 minutes.  Thorir Thorbjarnarson had a career-high 12 points on 4-of-5 shooting from 3-point range, while Cam Mack (12), Matej Kavas (11) and Jervay Green (10) all finished in double figures for Nebraska.
Marcus Zegarowski led four Creighton players in double figures with 30 points, nine rebounds and six assists, as the Bluejays shot 53 percent on the day, including 13 3-pointers. Ty-Shon Alexander added 22 points in the victory. Damien Jefferson, who entered the game 1-of-15 from 3-point range on the season, drained a pair of 3-pointers in a 18-2 Creighton spurt to open the game that set the tone.
DID YOU KNOW
• No matter where the setting, Friday's game would have been in front of a sellout crowd under pre-COVID 19 conditions, but the schools agreed to play in Omaha this year with no fans before returning to Lincoln in the 2021-22 season to continue the annual series which has taken place since 1977.
• Only four players on the 2020-21 Husker roster have faced Creighton (Thorir Thorbjarnarson, Yvan Ouedraogo, Akol Arop and Kobe Webster) in their collegiate career.  Thorbjarnarson had 12 points at Creighton in his first start of the season last December, hitting 4-of-5 from 3-point range. Ouedraogo had two points and three boards in 12 minutes, while Arop had two points, four rebounds and a blocked shot in three minutes of work in the loss in Omaha. Thorbjarnarson also played the final minute of NU's win in Lincoln in 2018.
Webster faced the Bluejays as a sophomore at Western Illinois on Nov. 6, 2018 and put up his first career double-double with 24 points and 10 rebounds in a 78-67 loss to the Bluejays in Omaha.
• Friday's game will be the third head coaching matchup between Nebraska's Fred Hoiberg and Creighton's Greg McDermott. In addition to last year's game, Iowa State beat Creighton, 91-88, at the Global Sports Hy-Vee Challenge in Des Moines, Iowa on Nov. 21, 2010.
• Hoiberg was hired to replace McDermott when he took the Creighton job after four seasons in Ames in April of 2010, and took the Cyclone program to new heights. In Hoiberg's first season, ISU won 16 games which was the most since the 2005-06 season before beginning a string of four straight NCAA appearances with the Cyclones.
• Nebraska looks to snap an eight-game losing streak on the road against ranked squads. NU's last road win against a ranked team was a 66-51 win over No. 25 Indiana on Jan. 14, 2019.  Nebraska's last top-10 win on the road was a 60-51 win at No. 9 Michigan State on Feb. 16, 2014.
• Friday's game against No. 8 Creighton begins a stretch where Nebraska could potentially play five straight top-25 teams.  NU opens Big Ten play at No. 13 Wisconsin before returning home to face a Michigan team which is the first team outside this week's AP Top 25. NU will then travel to No. 22 Ohio State before hosting No. 4 Michigan State on Jan. 2.