Lawmakers outraged after Guardsmen moved from Capitol to parking garage
National Guard members were moved from the U.S. Capitol into a parking garage, sparking outrage among lawmakers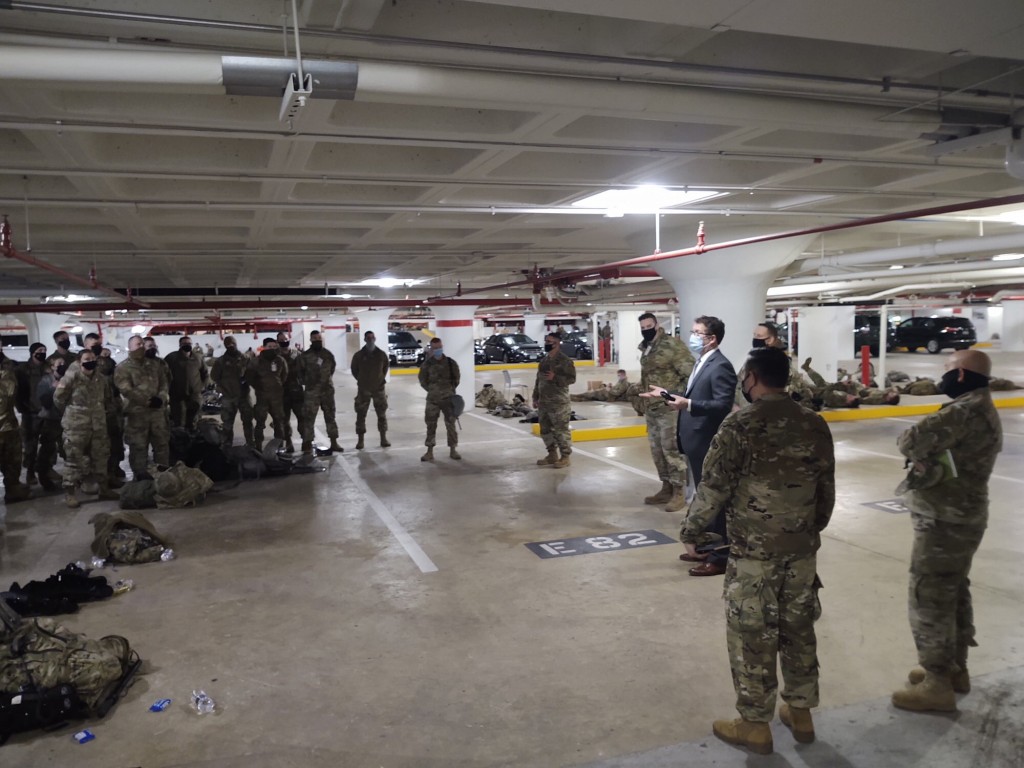 LINCOLN, Neb. (KLKN)- On Thursday, National Guard members were moved from the U.S. Capitol into a parking garage. Members of the National Guard told CNN that this action outraged lawmakers, including Nebraska's Senator Ben Sasse.
"These National Guardsmen and women put their lives and families on pause so that they could come defend our Nation's Capitol. They've kept Washington safe, and the decision to kick them out of the Capitol and make them sleep in the parking garage is beyond insulting. I'm glad the decision was reversed, but I want to know who the heck made this terrible decision in the first place," Senator Sasse said in a statement.
Guardsmen also told CNN that before Thursday, there were several designated areas in the Capitol where the National Guard could take breaks, by Thursday morning, those areas had been cleared out.
"We honestly just feel betrayed,"one guardsman told CNN earlier Thursday, noting that a day before, congressmen had come by for photos with the different National Guards units that came to Washington to support security around the inauguration. "After everything went seamlessly, we were deemed useless and banished to a corner of a parking garage."
After finding out about the guardsmen's situation, many lawmakers tweeted about their concern.
Very upset by this story but I have been in touch with the Utah National Guard and they are taken care of. My staff and I are investigating what happened here and will continue working to fix this situation. https://t.co/Fw2ZVv4fgO

— Mike Lee (@SenMikeLee) January 22, 2021
Unreal. I can't believe that the same brave servicemembers we've been asking to protect our Capitol and our Constitution these last two weeks would be unceremoniously ordered to vacate the building. I am demanding answers ASAP. They can use my office. https://t.co/GlSSx9nqXo

— Tammy Duckworth (@SenDuckworth) January 22, 2021
Guardsman told CNN that they are once again allowed to rest in the Capitol building. In a statement Thursday evening, the House Acting Sergeant at Arms, Tim Blodgett said, he will continue to "monitor the working and living condition of the Guard."
Rep. Madison Cawthorn tweeted out a video of him bringing pizzas to the Guards in the parking garage, saying they were "abandoned & insulted":
I just visited the solders who have been abandoned & insulted by our leaders. I brought them pizza and told them that they can sleep in my office.

No soldier will ever, ever sleep on a garage floor in the US Capitol while I work in Congress

Our Troops deserve better. pic.twitter.com/4attFqhRRJ

— Madison Cawthorn (@CawthornforNC) January 22, 2021

Rep. Adrian Smith, from Nebraska, also tweeted his support for the Guard members:
It was a privilege meeting with the brave members of the Nebraska National Guard stationed at the Cannon office building in Washington today. Thank you for your service! pic.twitter.com/rEse38L5l7

— Rep. Adrian Smith (@RepAdrianSmith) January 21, 2021
MORE: Nebraska National Guard members detail Inauguration day experience
A spokesman for the Nebraska Army National Guard told Channel 8 Eyewitness News sent the following:
"Yesterday and today we've had Nebraska Guardsmen on duty around the Cannon and Rayburn House Office Buildings and taking breaks during their shifts in the garage areas as well as other spots. We did not have any who were asked and told to move from one spot to another. Cannot emphasize enough that they are staying in hotels in DC, and the images people are reacting to are service members taking rest breaks while on their shifts providing security."