VIDEO: Aubrey Trail sentenced to death, 'an exceptionally depraved person'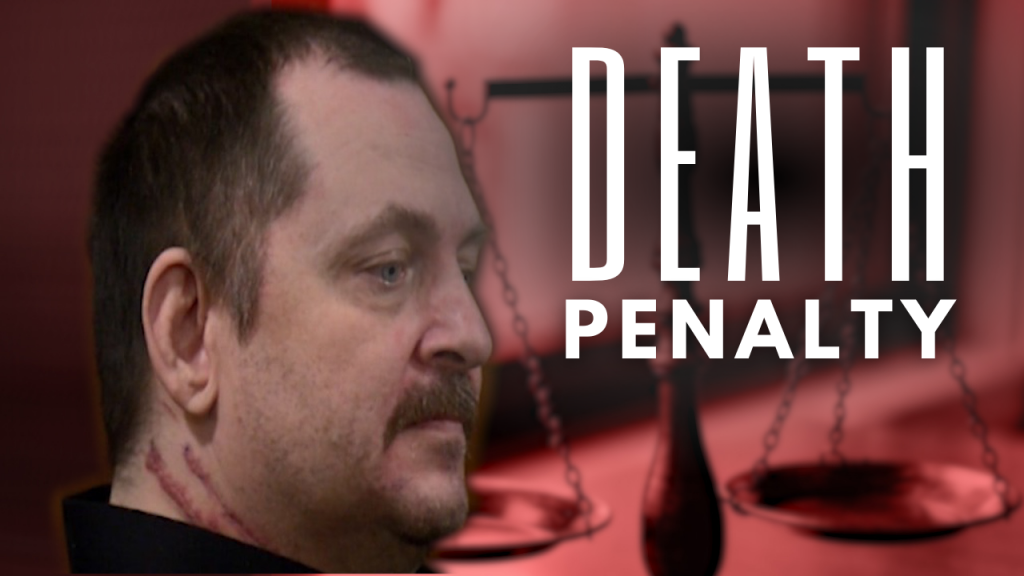 LINCOLN, Neb. (KLKN) — Aubrey Trail receives the death penalty.
The judge said:
"This case manifests exceptional depravity by ordinary standards of morality and intelligence conclusively, and beyond a reasonable doubt. The evidence of Sydney Loofe's dismembered and mutilated body reveals that Trail is an exceptionally depraved person. Trail's curiosity and need for sexual gratification were more important to him than an innocent life. The degree of cold, calculated planning, the relishing of the murder, and the heinous mutilation of the victim in particular just demonstrates extreme depravity, in the mind of Aubrey."
---
Prior to his sentencing, Aubrey Trail gave the following statement (below is a rough transcript):
WARNING: The following statement does contain graphic details. Viewer discretion advised. 
"I'm writing this down so that I don't leave anything out, Because this will be the only time I get to address Sydney Loofe's family. I realized that nothing I can say here today would change in the least what I did to Sydney three and a half years ago. I won't say I'm sorry, because that would be an insult to you after what I have put you through.

"And I won't ask for forgiveness, as I don't believe there is such a thing. I doubt that there is such a thing as closure in a case such as this, so I won't pretend that I'm doing that, I'm only doing what I should have done three and a half years ago. A lot of very bad things have been said about me, and I don't disagree. I've never claimed to be a good person, but I do have or live by a set of rules. During my interview with law enforcement and who in this courtroom, a lot of lies were told about Sydney Loofe. I was fighting a death penalty case, so telling the truth was the farthest thing from my mind.

"If you know where to look on the internet, you will find that a lot of people believe those lies, and I would now like to clear them up those up. Sydney Loofe did not die as a result of erotic asphyxiation. I murdered her. Sydney was never a part of our group. She was never paid to participate in any sexual or criminal activities, nor did she ever make phone calls for me in any of my scams. Sydney was never at the Grand Weaver Motel with me. Motel clerks that testified that they saw her there with me on more than one occasion were mistaken. I took a lot of women to that motel and obviously, they mistook one of them for Sydney.

"The landlord's wife from the apartment here in Wilbur who testified that she saw Sydney at the apartment with me earlier in the summer of 2017 with mistaken. Sydney was never at the apartment prior to the one time in November of 2017. A lot of women were in and out of there and a lot of them were blonde. I'm sure she mistook one of them for Sydney. When I told law enforcement where Sydney Loofe phone was, and told them that what was on it- what was on her phone would help me more than her was a calculated risk. I had no idea what was on her phone. I took a guess that there would be something on the phone, that could be used in a negative light. There were a couple of pictures and comments on there that I exploited to the fullest. They had absolutely nothing to do with her being involved in a secret lifestyle. Katie Brandel, who was with us for a week after Sydney's death had nothing to do with it, and she was not with us when the, when we disposed of Sydney's body in Clay County. Until now I have never told the truth about how and why Sydney died. Almost everything I said was a lie. Unless it benefited me, the state got a lot of it right, but not some of the biggest things. I did use Bailey to lurer Sydney to the apartment as I had done with all the girls. You heard three of them testify at my trial. The plan, however, was not to get her there to kill her, but to pull her into our whole group. I use women for sex and in my criminal activities, killing her intentionally would have been very counterproductive.

"I do not deny, however, that I premeditated Sydney's murder. The only difference is it was two or three hours after she got to the apartment that I decided to kill her and not days in advance. But premeditation, as I understand is premeditation, and that makes very little difference. I seriously misjudged Sydney from her and Bailey's messages and what happened on their first date. Once I set Sydney down and started explaining how we made money, some of our criminal activities, and about the group sex and other things I knew I had made a bad mistake as Sydney, somewhat freaked out. I tried for about 30 minutes to calm her down and had Bailey talked to her, but it did no good. I finally restrained her by tying her hands in front of her. I took her in the bedroom and told her to lay down and relax and warned her what would happen if she didn't. The truth is I killed Sydney because of her reaction to what I had told her, and shown her. I had no doubt that she would tell people, If I let her go. At the time Bailey and I both had warrants and we're living the good life from our criminal activities, and I was willing to do anything to protect that. I strangled Sydney with an extension cord in the bedroom of the apartment here in Wilbur. I've always told the truth when I said Bailey was not in the bedroom when I killed Sydney. Bailey was in the living, living room when I killed Sydney. All I told Bailey when I went into the bedroom was to stay there, I was going to talk to Sydney.

"I've always told the truth that the reason I dismembered her body was that I could find no other way to get her out of the apartment without being seen carrying her. Bailey helped me carry Sydney's body from the bedroom into the dining room. I planned to have her help me in the dismemberment, but she started dry heaving just carrying Sydney's body so I did it myself. I am the one who made the outline around Sydney's tattoo. There was no message or satanic anything meant by that, I had planned to remove the tattoos to make it Sydney to identify her body, but didn't. That is why the tattoo was outlined. Bailey and I cleaned up the apartment and she drove me to Clay County where I disposed of Sydney's body in an overgrown ditch line. I've done some terrible things in my life, that this is the only thing I have ever done that I feel real regret about. In the past I could justify myself, but not this time. Sydney did nothing. She rejected my lifestyle and threatened to expose it and I killed her for it. I am fully aware of that nothing I've said will change a single thing here today, but it is the truth. I am not looking for mercy, forgiveness or anything else. To be quite frank and with no disrespect intended to the court, I could care less what you do with me here today. Thank you. "
---
Aubrey Trail will face a three-judge panel Wednesday night to determine whether he will be sentenced to death or life in prison. He does have the right to appeal the decision.
Trail was convicted for the 2017 killing and dismembering of 24-year-old Lincoln resident, Sydney Loofe.
Trail cuts his throat in court, claims Boswell's innocence.
Loofe disappeared on Nov. 15 after arranging to meet Bailey Boswell, who was in a relationship with Trail, over Tinder. Trail and Boswell were arrested in Missouri about two weeks later as persons of interest.
On Dec. 4, Loofe's body parts were found littered along a state highway in Clay County.
Boswell was convicted of 1st-degree murder on Oct. 14 of 2020. She will also face the death penalty during her sentencing later this year.
Boswell's verdict read.
Related Content